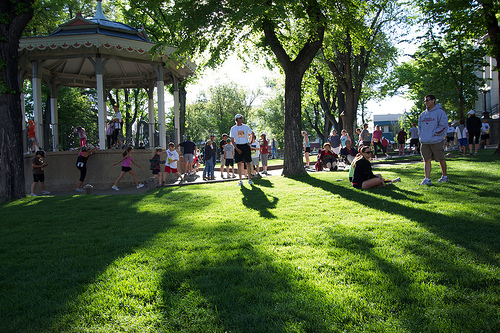 Ever wonder why Prescott, Arizona, is such an incredible vacation destination, an ideal town to raise a family, plus a picture-perfect place to retire? Undeniably, this quaint mountain town offers a perfect trifecta for all ages.
Prescott's Appeal
Prescott is a quaint mountain town full of history and one of a kind beauty. This popular community is known for its pleasant climate and vast amount of outdoor activities and recreation. In fact, the annual average high temperature is an enjoyable 69 degrees.
Where to Visit in Prescott
Historic Whiskey Row and downtown Prescott are high on the list to visit while in Prescott. Not only can visitors stroll around the historic and majestic Yavapai County Courthouse, visitors can also shop in numerous specialty shops and antique stores, have lunch at several award winning restaurants, and grab an ice cream and sit on the park benches and enjoy the views of the surrounding mountains.
Visit Prescott during Fourth of July and enjoy the World's Oldest Rodeo, which was founded in 1888. This event has week long activities of parades and numerous rodeo performances that are guaranteed to entertain.
What to Do in Prescott
Indoor or outdoor, whatever the preference, there are plenty of options for things to do in Prescott. The Prescott area has several lakes that offer the perfect setting for a picnic or a day on the water kayaking or canoeing. Visit Goldwater Lake, Granite Basin, Watson Lake, or Willow Lake, all of them offer beauty that leave visitors in awe. Feel like staying inside? Consider the Sharlot Hall Museum or the Phippen Art Museum, each offer history and a relaxing option for a day on the town.
Family Fun
Take the kiddos to Heritage Park Zoo. The Zoo offers a personal small town experience with the fabulous animals of larger zoos. Visiting during the winter? Check out ice skating at the Prescott Valley Event Center. It is fun for the entire family.
Golfing Prescott
The near perfect climate in the Prescott area allows year around golfing. There are several top-notch world acclaimed golf courses for visitors and residence to enjoy. A few of Prescott's area golf courses include: Capital Canyon, Prescott Lakes, Talking Rock, Prescott Country Club, and Stoneridge.
Living in Prescott
Prescott has been named the Number One Best Value Town in the Southwest by Sunset Magazine, in a recent article about Top 20 Best Value Towns. Combine that with Time Magazine's declaration that Prescott is one of the "happiest and healthiest cities in America" … it's settled, Prescott is the perfect place to live!
"Once again we are proud to be recognized for our many unique qualities," said Prescott Mayor Harry Oberg. "It's no secret to us in Prescott that the quality of life here is world-class. Our cultural and heritage amenities, variety of businesses, scenic beauty, outdoor recreation, and even air quality make Prescott a top destination to live, learn, work and play."
Prescott has earned these well-deserved accolades due to Prescott's higher education opportunities, variety of businesses, scenic beauty, outdoor recreation, and air quality.
Housing in Prescott
Mountain homes, downtown historic beauties, luxury homes on golf courses, family communities, and rural properties are all available in Prescott, Arizona. Prescott is a splendid compliment for the varied life styles of all ages. There are over 70 major subdivisions in the Prescott area, each with different amenities and styles.
Want More Information?
The best way to learn about Prescott is to ask someone who lives and immerses themselves in the Prescott lifestyle. Give Colleen McElmell with CLA Realty a call at (480)688-4443 for more information on all that Prescott has to offer.